Member: L/L Central
Location: Louisville, KY
Gender: Undisclosed
Interests: Gary Bean and Austin Bridges wear a lot of hats in attempting to meets the needs of the organization and the readership. Our weekly Blogworthy Report represents most of the diversity of our various honor/duties. In our work we have the added honor of collaborating with volunteers in the various projects and services that L/L Research offers. We love the Confederation philosophy, L/L Research, and the readership with all our hearts.

The Blogworthy Report details the adventures, happenings, and work of L/L Central. On a bi-weekly basis, Gary Bean and Austin Bridges share the highlights of their and Trisha Bean's collaborative work for L/L Research, along with sharing the daring exploits of a global network of volunteers. Occasionally they may also offer a specific update, a personal reflection, or unconditional love.
How it Came to Be
In December, 2018, we entered into conversation with Vojta (the Czech translator) and Lana (the Swedish translator) about the prospect of hosting an L/L event in Europe. What would we do? Where would we hold it?
Vojta, a native of Prague, suggested his home city because of its central location, lower cost relative to other European capitals, accommodation of English, cleanliness and beauty, and the presence of the four-person Czech translation team. Of the many translators working on L/L material, only in The Czech Republic is there a team of more than two. They have a very harmonious, tight-knit collaboration that is equal parts friendship and partnership in shared mission. They hold meditation meetings and have various roles in the effort to translate L/L material. Following in Jochen and Misha's footsteps, they have also incorporated into an L/L licensing partner which is empowered to print, publish, and distribute their translations in Czech.
So Prague it was! And with the Coming Home to a New Earth Gathering in Asheville in late May, and the Homecoming Gathering in Louisville in early September, we landed upon mid-October for L/L's third shindig in 2019. Vojta and team then scouted for a venue and located one that would rent the whole building to us, offering three different rooms + a small kitchen area. Bonus: the building was just a 2-minute walk from an incredible and large city park that boasted a café, a vineyard, a waterfall, a fountain, panaromic views of Prague, cultivated plantings, hills, walkways, and wonderfully tall trees.
And from those early decisions, months of work ensued, the details of which I will spare you.
Thursday Arrival
When Jim, Austin, Trish, and I arrived in Prague on Thursday, the morning before the event (1:00 am our time, 7:00 am Prague time), we hadn't gained much sleep in our travels, but we were aglow with our surroundings---WE WERE IN EUROPE!! Holy cow. Jim had been to the UK with Carla; Trish and I to Iceland; but none of us had stepped foot on the continent. In the US you are so saturated and insulated with the US. Unless you're in a large urban area like NYC, you can feel trapped in a monoculture, despite the geographical variations, that is obsessively focused on itself and largely ignorant to the rest of the world. To be upon another continent, especially one so storied as Europe, the distant source of much of our cultural identity, was surreal. We were still on planet Earth, but things were . . . different. Architecture, street signs, language, dress, attitudes, the way restaurants work, the way toilets work, currency, cuisine, the quality of the beer, the absence of SUVs, the presence of excellent public transportation, etc.
Vojta picked us up from the airport with an accentuated version of the smile he often wears, and off we went. We checked into our Airbnb near the venue, picked up SIM cards for our phones (with data all throughout Europe, we were able to use WhatsApp to communicate), and met ROMAN! (Aka: Romi.)
<side story> If you know the L/L biography, you'll know that Romi was a dear, dear friend who lived in Louisville for over 20 years. Many of the channelings in the 90s were possible because Romi showed up as the third person necessary for a universal contact. He was born and raised in Czechoslovakia when it was a Soviet client state. He defected (you should ask him about his story sometime) by bravely and illegally crossing a border in his early 20s and making his way to a refugee camp in West Germany. There he sought asylum and spent a year before landing in the United States with nary a penny in his pocket. He found his way, though, becoming a pilot and IT person. And while living in Connecticut sometime thereafter, Romi had a girlfriend who, much to his curiosity, had a copy of the Law of One on her bookshelf . . .
[Insert your own discovery of the material to relate to Romi's.]
This brought him to Louisville in the early 90s, where, minus a couple years spent in the Peace Corps, he remained until 2014 or so. He had his own home, a good job, proximity to L/L Research, and a life fairly well configured to his needs, but something called to him. Back in the Czech Republic, his mother's health was declining. Roman's brother had defected not long after Romi, so no one remained to care for his mom. Though she made no requests of him, he heeded the call of service and sold his house at a loss, quit his job, and, for the first time since the late 80s, returned to live in the Czech Republic. In this move he accepted a significant reduction in quality of life, distanced himself from his beloved L/L Research, and entered a place where he knew no one studying the Law of One.
I love to connect Law of One people. Many times over the years I have carefully inquired with Person A about connecting with Person B, and vice versa, when I learn that said persons are in physical proximity without knowing one another. So when Vojtech wrote L/L from the Czech Republic on January 20, 2016, interested in launching a Czech translation, I knew what to do. Very soon after Vojtech and Roman connected, they met and merged intentions with two other Czech seekers interested in translation - Bara and Radim - who synchronistically appeared. The four hit it off really well. Thus began their journey of translation and shared seeking. <conclude sidestory.>
The day before the Prague Seeker Gathering, we not only reunited with Romi, but finally got to meet Radim! (Radim is the workhorse of the translation team, being the one to create the first draft of the translation.) We had lots of hugs and smiles and shared conversation, including a lengthy planning meeting, much of which centered on the complex and thorny problem of how to distribute Friday night's pizza dinner. :-) Our dear friend from the Asheville tribe, Karin, arrived, enhancing the vibe greatly and providing vital production support.
Gathering Day - Friday
The following day, Friday, the first day of the event, continued the magic put into motion the previous day. That morning we met Laszlo! He is the Hungarian translator who began his journey translating the Law of One in 2010 that culminated in Book V just last year in December, 2018. Like the majority of wanderers and spiritual seekers we encounter, and as was true for me in my initial contacts with the L/L community, he was nervous to participate in a group and to meet so many other Law of One people. But also like so many wanderers, that nervousness/anxiety eased as the energy moved easily between us and he could see (I think) that we're all ordinary bozos who just happen to be reading the best stuff on the planet.
With Lazlo, Radim, Romi, Vojta, and Karin, we were able to do a little bit of sightseeing before the event, including walking the Charles Bridge built in the twelve freakin hundreds. (Fascinated as I was by the age of such a thing, the journey into the past and my corresponding wonder would only deepen as this trip advanced forward.)
Then, to the venue, where we met the fourth and final member of the Czech translation team, Bara! She had been unable to meet previously due to the responsibilities of motherhood, but her vibe shone to a brightness matching what we were all feeling, the space lightening greatly as we prepared for the event just a couple hours away.
One of our main tasks was to create the set up for Open Space Technology. This is a method of conducting events wherein attendees co-create the curriculum. Each who wishes to offer the circle something close to their heart then pitches their offering to the group in a morning session called marketplace. The circle then decides in what time slot on what day and in what room (there were three rooms available) that the presentation/activity should be slotted. This is a format we learned from the Asheville group during our Coming Home to a New Earth gatherings, and it was our first time flying mostly solo with this format outside of that context, though Karin, our friend from Asheville, co-conducted marketplace with us, providing very helpful guidance.
The Circle
And into the venue everyone began streaming! 32 people total from 15 different countries, including: Armenia, Austria, Belgium, Croatia, Czechia, Finland, France, Germany, Hungary, Israel, Italy, Romania, Slovak Republic, United Kingdom, and USA. (Poland and Sweden would have been there had they not had to cancel.) It was so, so awesome. We've never experienced anything like that at an L/L event.
What particularly stood out to me was that in all the surface diversity - people from different cultures with different native languages speaking English with various accents - the circle was the same in essence as every circle I've ever experienced in Louisville. Our native settings were different, but our sorrows and hardships, joys and hopes, were held in common, all united by the Original Desire - aka, the Creator's will - awakening within each heart, combined with the sense that the Law of One philosophy helps illuminate the journey and, for many of us, serves as a postcard from home.
And in this regard it fulfilled the essence of Homecoming, which isn't about coming to Louisville, or meeting Carla and Jim or any of us L/L Research people---it is about the remembrance and sense of home that begins to emerge when spiritual seekers open their hearts to one another and speak their stories. Home is that exponential empowering that happens only when we come together to share ourselves and experience each other.
Such beauty, I tell you. Many are the moments when you listen to someone's story and the eyes begin to water, or the heart begins to swell, or the arms begin to reach out in the desire to hug or comfort, or you hear yourself speaking from another body. Many are the moments, too, when you encounter your own shadow, the many and complex ways that your unintegrated quirks of personality offer stumbling blocks to the open heart. But such an environment empowers the balancing and even dissolving of these barriers if one leans into the courage to be vulnerable with others in the safety of the co-created space.
What was also incredible was that this was a new event where most faces were new to one another. At L/L's Homecoming Gathering, three-quarters of attendees are alumni, many returning year after year. This creates a continuity of culture. At this gathering, by contrast, less than one-third of the attendees had experienced L/L gatherings (including Beatriz, Victor, and Jeremy from the USA). Yet, thanks to a combination of the container we held (venue, intentions, format, leadership, etc.) along with the quality of light each brought to the circle (the most important ingredient), the culture of joyful relating began almost immediately.
It is indeed a bubble relative to the daily experience of most, but it is a needed bubble, as so many report. To the hardships endured before the event, it restores; to the challenges awaiting after the event, it revitalizes.
The Translators
You can read Jim's account by clicking here (and then using the calendar on the right for 10/10 - 10/12) for more about the activities of each day, including shared meals, open space offerings, a Q'uo channeling, and a Q&A with Jim, Austin, and me, and his reuniting and our finally meeting of Pupak! Among the highlights of our weekend together for me was the translators. In addition to those already named, we met the brilliant Gianluca, the Italian translator pursuing a path of licensing partnership; and Romain, he of France who keeps his heart in his eyes and contributes occasional transcripts; and the translator elder extraordinaire, dear sweet Misha, she of Brussels who, in her mid-70s, will charm your heart into submission. Mish is a professional translator by vocation and has freely gifted L/L and all French readers with more translations than anyone, and done so with steady love and devotion in her heart.
Of these eight translators, we were meeting five of them for the first time in person, and most of them were likewise meeting each other for the first time. They happily followed through with my suggestion to hold a translator meeting as one of the Open Space offerings. This meeting was my favorite moment of the weekend. Vojta, Romi, Radim, Bara, Misha, Gianluca, Laszlo, and Romain discussed some of the challenges and rewards of translating this unique body of information. In this dialogue they were able to support one another in what is typically a lone journey. We recorded that meeting and hope to create a transcript.
Non-Louisville Gatherings
One of the main objectives of this event was to teach and empower the Czech translation team to produce and host gatherings in Europe. We are a tiny, tiny staff in Louisville who lack the resources to conduct gatherings around the world on our own. What we can do is to seed the ability for others to do so. Vojta, fortunately, has arrived early to volunteer for the Louisville Homecoming Gathering the past three or four years. This has taught him some of the ropes of production. He was able to transfer those learned skills to Prague and combine them with his many native talents to collaborate with the Czech translation team to co-produce and host an event in their home country. And with colors flying did they succeed. And in the moment of truth following the gathering, when a producer will either say "never again!" or "IDK, maybe we could do it again," or "Yes! Let's do it again and again!", the Czech team made the latter declaration, stating that they would like to make this an annual tradition.
So perhaps they, or we, or all of us will see you next year, or the next, in Europe . . . :)
Bye
It was such an honor to be among such incredible company in such a wonderful and, to me, exotic location; and to share the experience with some of the people I love the most, including Jim, Austin, and my beloved companion, Trisha, and all the wonderful faces of the Law of One circle.
Next week I'll give similar treatment to the other portions of our great European adventure, including our filmed interview in the Bavarian Alps, and our time in Rome.
With love/light,
Gary L. Bean
Jim, Trish, Karin just outside of venue in Prague
Jim, Gary, Austin at park nearby venue
Gary, Trish, Vojta, Radim, Karin, Austin, Lazslo meeting before event
Czech Translation Team: Radim, Vojta, Bara, Romi
Jim welcoming the circle
Friday night "authentic relating games"
Romi sharing his offering in marketplace
Karin coordinating last-minute changes to schedule
Jim and Pupak
Beatriz offering a talk on self-healing
Translator meeting
This guy, always with the smiles
This guy, with the classic photo-bombing

1 Comment

Add a comment
The gems in the Transcript Library never cease to amaze and inspire, particularly when channeled through the one known as Carla. I (Gary) have been persisting in the hopeless effort to compile a "best of" over the past year. This is something of a futile quest given the endless variety of superlative eloquences strewn so consistently throughout the library. Carla's channeling is peerless, and given the hundreds-of-thousands (millions?) of words channeled through her, there is no narrowing such vast richness down to a best of. Instead, there is only the unique moment that you enter the transcript library, encumbered with all the circumstances and concerns upon your mind, and the subsequent discovery of inspiration that meets you precisely, often miraculously, right where you stand upon the long, dusty road of spiritual evolution.
How wonderful that sources of hope, clarity, illumination, inspiration, and the fuel to fire the will and strengthen the faith never, ever run dry. However hardened and worn down we may be by the illusion, eternal springs of healing flow always just below the surface.
A quote for today:
"We shall focus briefly on the state of the planet, for that is one thread of your questioning: is there a gain or a decrease in love upon planet Earth? Indeed, there are a number of ways to answer that question, but we shall choose two. Firstly, as the one known as R has said, the surface of life has a spurious and shallow reality that is nonetheless undeniable. It is a world of complete illusion, and in that world the dragon thrashes its tail. And angels in flesh quiver, defend, worry and hope to respond in ways that add love to the illusion. A little positive, a little negative, and the illusion wags on, doing the job it was meant to do, thoroughly confusing, baffling and frustrating. All efforts of the linear and conscious intellect to control it bring each inevitably, surely, if each is honest, to the realization that the self knows nothing. That the life of the surface has nothing. That all is "vanity and striving after wind," as this instrument would quote from her Bible.
Such is the surface of life. Such is the design that was intended for that illusion, and at the same time may we say that there is tremendous growth in the metaphysical sense among the peoples of your planet. It is abundantly, richly clear on the metaphysical planes of your planet that a tremendous outpouring of love and concern has streamed into the Earth plane. Many Earth native individuals, and by that we mean those who have been within the planetary influence as souls since pre-history, in your terms, have come through the many waters of many, many incarnations over thousands of years and have slowly but surely come to the point where the alarm clock has gone off. The awakening of the spirit within flesh has taken place, and there is now the realization within many, many individual Earth native souls that they are citizens of eternity, that they are infinite beings and that the surface of life, while due great honor and attention, is not all that there is but is only the gateway to the present moment, which is infinite. And these voices have become a great choir asking and seeking and knocking at the door of truth.
There is a call going out from your planet at this time that has been going out from your planet for a considerable number of years now, that has activated and doubled and redoubled the light energy upon your planet." - Q'uo
https://llresearch.org/transcripts/issues/2001/2001_0902.aspx

0 Comments

Add a comment
We wanted to make this our profile pic when launging The Blogworthy Report, but there's an issue with the system that won't let us change out the pic, which by default is the L/L logo, so we'll share us with you as a post.
The home crew! From left to right: Austin, Gary, Trish, Jim.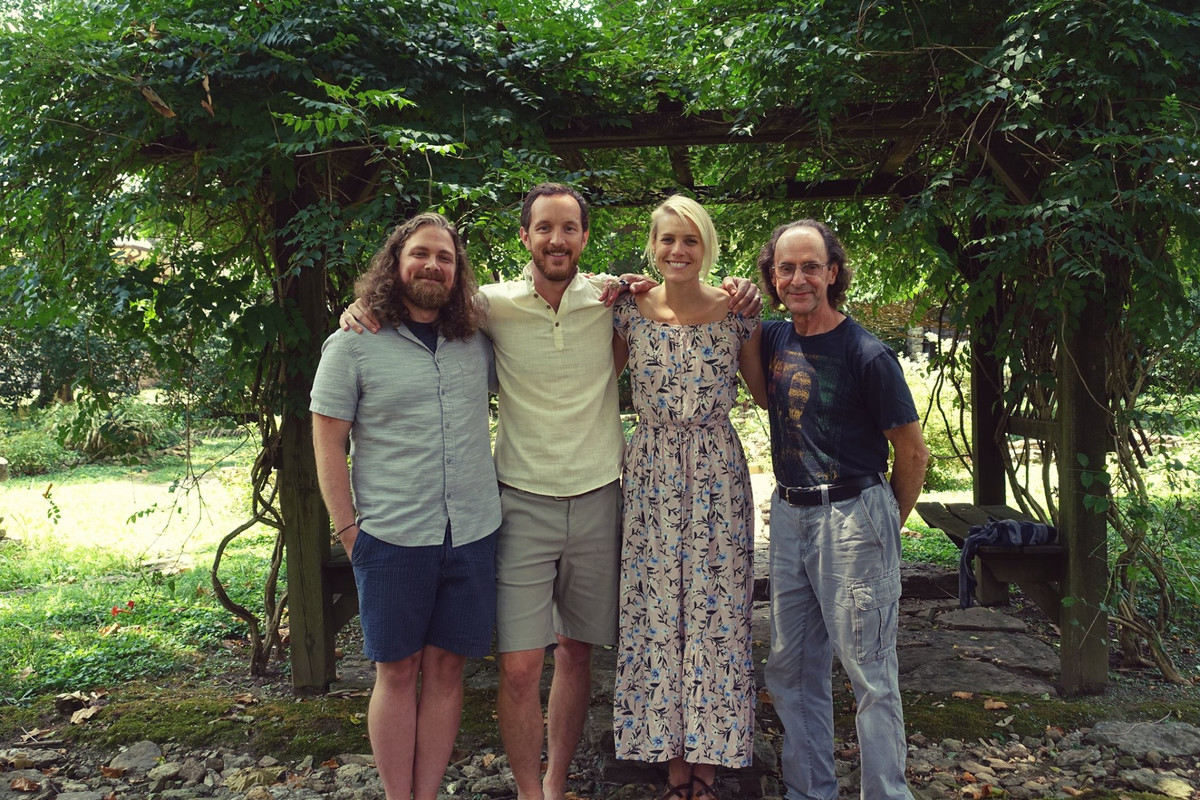 1 Comment

Add a comment
This report spans the two weeks from 9/22 - 10/4:
Dear Law of One family: We of L/L (Jim, Austin, Gary, Trisha, and the Board of Directors) would like to announce some exciting changes on the horizon. Two of our group, Gary and Trisha Bean, have chosen to be the forerunners of a new adventure with the intention of continued and expanded service to L/L. After a round table discussion and a unanimous vote by the board, Gary and Trish will move to Asheville, NC to establish a new L/L office. They, like others in our family, have found great resonance with the local community and all it has to offer, and we thank them for providing the initial spark that has grown into a new journey for L/L Research.

To read the text of the full announcement, please click A New Journey for L/L Research


English transcripts: Received FOUR transcripts from the volunteer powerhouse, Aaron T.! We edited, formatted, and posted these puppies to the archive website:
Etsy Store: We are also excited to have a second announcement in this two-week span, our newest venture: a merchandise store by way of the Etsy platform. With the help of community polling on our official Facebook page, we were able to generate some of your (and our) favorite Confederation quotes, which are now featured on various apparel and accessories. Please check out our shop at https://www.etsy.com/shop/LLResearch. All proceeds go towards supporting L/L's mission of providing our many publications for free. We'd love your feedback. And if you have suggestions for other quotes, please feel free to respond drop us a line via email.

Thank you all for your continued support! And many thanks to Trisha Bean for initiating and leading this project, and for working with us bearded guys. The last time we had t-shirts for sale was when Carla had them created for L/L.

Concept Guide Cover Art: Received from Julie J. her third iteration of the canvas and paint artwork for the cover of the new book which incorporated our suggestions. What arrived looked as close to perfection as our amateur eyes can discern. We had one little suggestion so Julie came over to work her magic in office with us and, walla, finalized the piece. (The best part was just getting some hangtime with Julie.) Next step: professional photograph.
New website progress: Met with Christian and Daniel for an update on the web development project, and was presented with impressive and comprehensive Project Proposal document, solidifying our path and offering some real momentum to this prolonged yet all-important project. And with something so solid in hand, the excitement is mounting. We are truly blessed with some real talent for this project.
Prison Ministry: Caught up on the Prison Ministry, sending out some catalog letters and forwarding correspondence on to volunteers Sam and A. Whitecrow.
Translations out the wazoo: The steady stream of translation work continues unabated. Not only did we work with Jochen to create...a soon-to-be-revealed surprise, he also sent in another German transcript. Adam also sent in three Polish translations. The translation work never ceases to amaze us! The transcripts were formatted and then posted to the archive site:
Translation product pages: And with even more help from Jochen, created two new product pages for translations:
Transcript PDFs: Got back in touch with Tomas, who formats the channeling transcripts to be published in PDF format. After another summer break, he returns to offer his unwavering service.
The development of the Asheville announcement: As you may imagine, no small amount of work went into reaching the point of and then constructing the announcement about an L/L office in Asheville. Some day we will regale you with the full story, but the short of it is that the vision for the L/L office was, quite to the surprise of the parties involved, discovered by Aaron Maret and Gary during Gary and Trisha's 11-day visit to Asheville in July. Followed by meetings with Jim and Austin, then a full day of meetings with a delegation of five from Asheville of Karin, Jan, BJ, Jess, Aaron, along with Jim, Morris, Austin, Trish, and Gary, followed by a board vote, building the announcement, lots of cross-organization dialogue, and then publishing the announcement on websites and in the gatherings newsletter. All while keeping this L/L engine going. With Europe next week, this has been the most intense crunch period with barely a moment to catch the breath at times when the many other pressures of head-spinning personal catalyses in the home life (that don't make this report) are factored in.

The constant companions: Kept up with the weekly tasks and services, including packing and shipping book orders, responding to all sorts of emails from seekers, retrieving and processing PO box mail, slugging through the keeping of the books, sharing the Confederation (thank you, Trisha) via social media, petting the cats, etc. And a thank you to Jeremy W. for his constant vigil in sharing Confederation quotes via L/L's Twitter page.
Prague Law of One Seeker Gathering: Lots of work with Vojta and team including receiving and reviewing the meal plan they invested a lot of work into, finalizing the curriculum and open space formats, emailing the attendees the aforementioned items along with all remaining gathering information, planning the Thursday/Friday schedules with the Czech team, planning our own travel/lodging details, working with Pupak's ideas of a gifting table, sending money to the Czech team for purchases and other budgetary items.
Law of One Interview project: Additionally, work on the project following the Prague gathering to spend a couple days with two videographers from Munich conducting an interview, and spending productive time with three L/L translators Misha, Jochen, and Vojta. Work included: using Trisha's great research to give team two its objective, working with Vojta to book train tickets (thank you, Vojta), receiving donation from a generous friend to support two of the team in their lodging, and working with our new friends and videographers designing the interview, Nadine and Thomas.
Itineraries and Europe To Do: As if the above two bullet points were not enough, built our detailed itineraries for the trip with all travel/lodging/contact info and created packets for everyone and saw to many points of planning and preparing and supporting Jim.
Rome: Coordinated with Gianluca, the Italian translator, about meeting Italian seekers in Rome and spending time with him.
One Center: Received the semi-annual report of Chinese-language book sales from the Taiwanese One Center.
All Channelings All the Time: Relayed Jim's notice to the local meditation group that he has decided to eliminate all future silent meditations in favor of Q'uo channelings. That means that there will be four Q'uo channelings per month to publish to the archive website!
Light/Lines Newsletter: Built, formatted, and sent the Light/Lines Newsletter for the fall season. Jim chose the Jan 19, 2019 session for this issue: https://www.llresearch.org/newsletters/indexes/2019.aspx.
Russian translations: Received communication from a Russian seeker about his interest in hiring existing Russian translators to get the entire transcript library translated! First we've run into this sort of prospect.
Organizational discussion: continued intensive look into structure-of-organization questions per the proposal of a dear friend. In the process of formulating a ten-page reply, gained great insight into our operation.
Carla still with us: transferred a 1991 letter tape of Carla's to mp3 and got that, along with the past two Q'uo channelings, over to Aaron T. for transcript. Go Aaron!
Exploratory Film Process: Dove into an email with Roger R. about the docuseries project, discussing a possible visit, schedule, items that could be used as source or reference material, and the 30 hours of footage from the Tilting at Windmills interviews.
Polish translator: Dialogued with the Polish translator, Adam R., learning of his project to launch a local support group for seekers of his language.
Met with Morris: If you don't know him, Morris is literally L/L's oldest friend. Not old in age but in his years with the organization. He knew Carla and Don as a youngster, and if fate would have made a different turn, he would have been us before there was an us. He has been living with Jim for the past month as he is in town for businss, and it has been so wonderful having him around, kind of like a grown-up Luke Skywalker. We met with Morris on a complex contractual question about publication of one of L/L's titles.
And that concludes the report for a while! (Would you believe that Google translate gave a French word for "blogworthy.") In several days we will enter Earth's atmosphere and by some magic still relatively new in human evolution, step out of the sky and step foot onto a different continent, with uncomfortable seats along the way. We will meet with eight Law of One translators of five languages (Czech, French, Hungarian, Italian, and German), along with meeting five of those eight for the first time in person (Jochen, Bara, Radim, Laszlo, and Gianluca), along with dozens of new faces, conduct our first international gathering in collaboration with the Czech translation team (and the most international with people multiple countries), undertake a two-day interview in the Alps, spend time with the Italian translator in Rome and meet seekers of the same country, and help to empower the Czech team and translators to network with one another and potentially conduct their own gatherings in the future.
We've worked very hard for this. We look forward to being back with you, but before then, we look forward to EUROPE!!!

0 Comments

Add a comment
We've been on two week cycles lately. This report runs 9/8 - 9/20. It is always written by both Gary and Austin. Gary adds the personal tidbits afterward.
Channeling season kickoff: The new channeling season kicked off with Homecoming. Aaron T. returned another skillful transcript of the audio, which was edited, formatted, and subsequently published to the library: 2019.09.01
Channeling Archive ebooks: Continued working with super volunteers Dale and Maria, who have been turning the channeling archives into e-books to mirror the 18-volume physical set. These books were previously only available as hard copies, with no PDFs on the website (as all of the transcripts were already contained in the digital archive). But with the ebooks coming in, the whole thing was redesigned to share the PDFs, the ebooks, and make locating, downloading, and purchasing these volumes easier for anyone interested. Seriously, check out the ongoing work here!
Audiobook work: With The Ra Contact Volume 1 going live, there was a feeling of passing a finish line that was actually just the first goal in a long process. So review of the audiobook manuscript and audio for Volume 2 continues as Trish continues the meticulous editing process.
Speaking of: Did you hear that Volume 1 is now available via Audible? It is! Look! Initial feedback has been encouraging and heartwarming.
Organizational discussion: The past couple of years have been quite active and transformative for L/L Research, and the ongoing process has helped us to clarify many organizational questions internally. The process has involved many facets, including critical feedback and difficult discussions with friends and volunteers about the internal processes of L/L Research. Over those two years, some periods have been of much higher intensity (both in activity and emotion) than others. These past two weeks would be among the more intense periods of discussion and deliberation. It is not always an easy or joyful process to go through, but we continuously attempt to center ourselves in our hearts and recognize the duty/honor of our service that is shared with many individuals who have various relationships with L/L Research. We're all working for a higher good.
Prague Law of One Seeker Gathering: approaches quickly. But still lots of work to do. From helping another translator to attend to learning unfortunately that Jochen would need to cancel attendance (though we're still crossing fingers we'll get to meet him afterward); to processing scholarships; to pitching an idea to all the translators who will be there to hold a translators' session during one of the open space spots (which got enthusiastic affirmations in reply); to dialoguing with Vojta; to receiving the Czech team's food plans ($100 under budget!), and their initial sketch of a curriculum; to spending a nice chunk of time formatting and revising the curriculum; to planning for the coming steps! Two seats remaining for Prague. (And while working on this, the next gathering, put together the follow-up, final email for the previous gathering, saying goodbye to Homecoming 2019.)
Post-Prague Interview: Also lots of working with Thomas and Nadine to get all the logistics set up for the interview, from the meals, lodging, shuffling roster, itinerary, and the interview structure and questions. Had a great Skype meeting with the two who are always such a pleasure to talk with. We four always have lots of smiles and laughs while being productive.
Session 26: arrived in Louisville translated into Bulgarian courtesy of the skilled and funny Kirilina. Thank you, Kirilina!
Ra strikes again! This time through the hardworking efforts of the amazing Czech translation team of Bara, Radim, Vojta, and Roman who have rendered Book II into Czech! Congratulation, team! And on behalf of L/L Research and all of planet Earth (sometimes you gotta cover the bases), thank you.
Tilting at Windmills Interview: You know that 600-page tome that is the book Tilting at Windmills? It came from interviews that were filmed on a volunteer basis by our dear friend and multiply talented videographer, Ken Wendt. He got a project underway to unify the two camera angles for their subsequent round of editing. Worked with Ken on the process and hunting down missing videos.
Gratitude for the Law of One: I (which "I"? It's unimportant) have tossed around the idea of creating a section on the new website (it must manifest one day) that would share snippets of the gratitude that L/L receives from the readership for the material and/or the organization's service. Here's a thought from one of the translators: "I am so in love with the materials from the LL Research, I feel its resonance, its honesty, its innocent and its pureness of seeking, as you probably hear already from other many readers who experience this magical moment. And everyday, i drink those words as my "breakfast", thank you for your work as well in facebook and other easily accessible quotes from this material in social media."
Next Gen Channels: Though not part of our office duties because it is a volunteer, outside-of-the-office-hours vocational service, much like attending and helping Jim to facilitate the weekly public meditations, we met with the senior channel with the mostest, Jim, to practice channeling. We were rejoined by fellow co-channeler Kathy! So great to have her back in the circle. Trish was unfortunately experiencing medical difficulty this night. Austin and Gary (us) continued taking Q&As after the main question.
57.17: Received word from Tobey and Michelle that Michelle had discovered a slight tweak to 57.17 that made so much syntactical sense. It corrected assumed words in the space of a tape flip. Tobey updated lawofone.info and we'll do the same for The Ra Contact come time that it's due for a third printing. Thank you, Michelle! Still editing we see. :)

T-shirts: Worked with Trish on her project to create t-shirts for the readership. At Homecoming we showcased a few of the funny versions she created, 98% of them will feature inspiring Ra quotes. Should go live within the next couple of weeks.
71-80: Met to process Sessions 71 - 80 of the Ra Contact sessions to transfer to Trish for her work on the audiobook.
The weeklies: Did them, like processing, packaging, and shipping book orders. Holding the financial dimension of L/L's universe. And, though not a weekly, let's put it here: Had to dialogue with the CPA. Some teeth were ground.
Qi Research and Development: How could would it be to say that we had the time to do that. Alas, the next best thing, John T. lightning fast turned around a transcript from his Homecoming presentation. Reminding us that we need to get caught up on the Homecoming backlog. Which also started a project to get the online archive of photos back up and updated. Ran into a technical snag.
Seeker email: We have a weekly rhythm of replying to seeker email and in this two-week period had the honor of replies to two rounds of seeker email.
A Belgian encounter: Received a wonderful anecdote from the wonderful Misha about how she crossed paths with a gentleman in a shoe that led to progressively deeper questions about her life that led to sharing the Law of One with him. She reported that he was very excited. Imagine running into the French translator in the shoe store as your means of "stumbling on" this work.

We also, celebrated Misha's birthday! She grows wiser every year, or as she says, ancient. (We're sticking with wise.)


This is a prayer that Mother Theresa had on her wall. It was taped on my desk in the L/L office for many years:
People are often unreasonable, illogical, and self-centered.
Forgive them anyway.


If you are kind,
people may accuse you of selfish ulterior motives.
Be kind anyway.


If you are successful,
you will win some false friends and some true enemies.
Succeed anyway.


If you are honest and frank,
people may cheat you.
Be honest and frank anyway.


What you spend years building,
someone could destroy overnight.
Build anyway.


If you find serenity and happiness,
they may be jealous.
Be happy anyway.


The good you do today,
people will often forget tomorrow.
Do good anyway.


Give the world the best you have,
and it may never be enough.
Give the best you've got anyway.


You see,
in the final analysis it is between you and God;
it was never between you and them anyway.


0 Comments

Add a comment
S
M
T
W
T
F
S

1

2

3

4

5

6

7

8

9

10

11

12

13

14

15

16

17

18

19

20

21

22

23

24

25

26

27

28

29

30

31

| | | |
| --- | --- | --- |
| =Blog Entry | | =Today |