Member: L/L Central
Location: Louisville, KY
Gender: Undisclosed
Interests: Gary Bean and Austin Bridges wear a lot of hats in attempting to meets the needs of the organization and the readership. Our weekly Blogworthy Report represents most of the diversity of our various honor/duties. In our work we have the added honor of collaborating with volunteers in the various projects and services that L/L Research offers. We love the Confederation philosophy, L/L Research, and the readership with all our hearts.

The Blogworthy Report details the adventures, happenings, and work of L/L Central. On a weekly basis, Gary Bean and Austin Bridges supply a list of bullet points highlighting their and Trisha Bean's collaborative work for L/L Research. Occasionally they may also offer a specific update, a personal reflection, or unconditional love.

You can access Jim McCarty's daily "Camelot Journal" via the home page of Bring4th.
We wanted to make this our profile pic when launging The Blogworthy Report, but there's an issue with the system that won't let us change out the pic, which by default is the L/L logo, so we'll share us with you as a post.
The home crew! From left to right: Austin, Gary, Trish, Jim.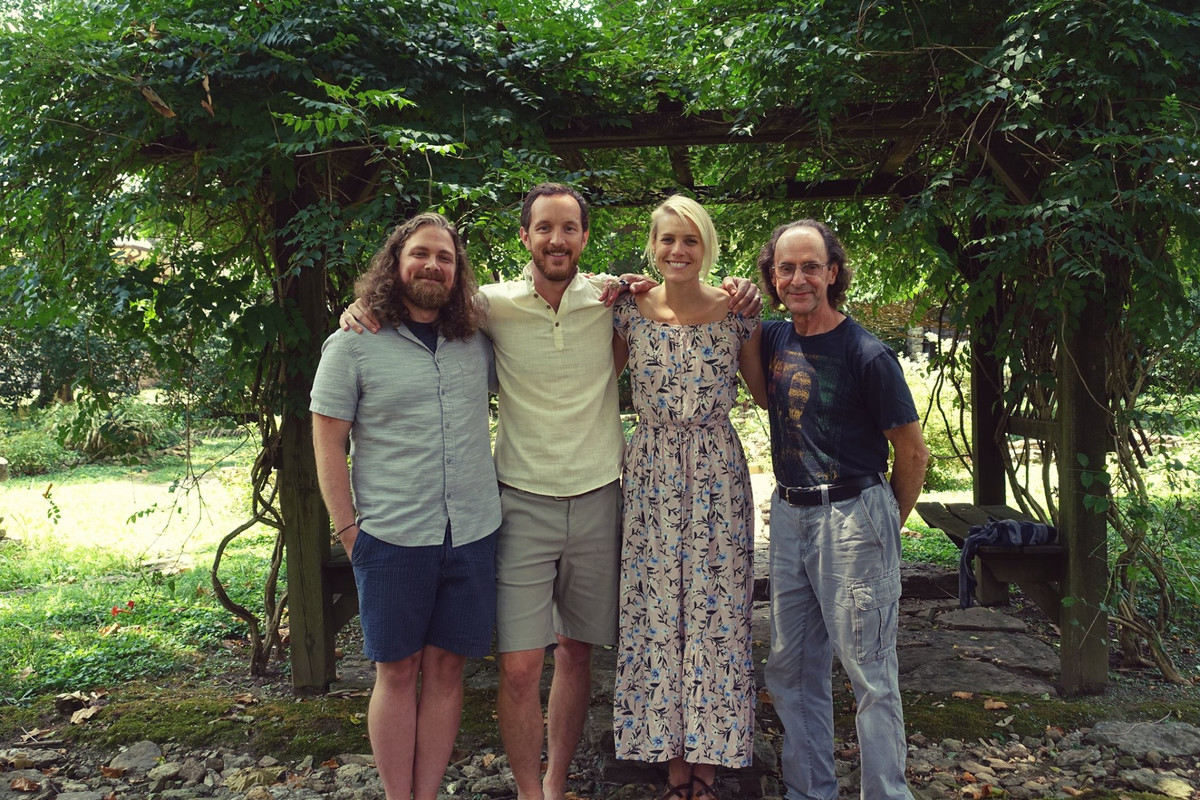 1 Comment

Add a comment
This report spans the two weeks from 9/22 - 10/4:
Dear Law of One family: We of L/L (Jim, Austin, Gary, Trisha, and the Board of Directors) would like to announce some exciting changes on the horizon. Two of our group, Gary and Trisha Bean, have chosen to be the forerunners of a new adventure with the intention of continued and expanded service to L/L. After a round table discussion and a unanimous vote by the board, Gary and Trish will move to Asheville, NC to establish a new L/L office. They, like others in our family, have found great resonance with the local community and all it has to offer, and we thank them for providing the initial spark that has grown into a new journey for L/L Research.

To read the text of the full announcement, please click A New Journey for L/L Research


English transcripts: Received FOUR transcripts from the volunteer powerhouse, Aaron T.! We edited, formatted, and posted these puppies to the archive website:
Etsy Store: We are also excited to have a second announcement in this two-week span, our newest venture: a merchandise store by way of the Etsy platform. With the help of community polling on our official Facebook page, we were able to generate some of your (and our) favorite Confederation quotes, which are now featured on various apparel and accessories. Please check out our shop at https://www.etsy.com/shop/LLResearch. All proceeds go towards supporting L/L's mission of providing our many publications for free. We'd love your feedback. And if you have suggestions for other quotes, please feel free to respond drop us a line via email.

Thank you all for your continued support! And many thanks to Trisha Bean for initiating and leading this project, and for working with us bearded guys. The last time we had t-shirts for sale was when Carla had them created for L/L.

Concept Guide Cover Art: Received from Julie J. her third iteration of the canvas and paint artwork for the cover of the new book which incorporated our suggestions. What arrived looked as close to perfection as our amateur eyes can discern. We had one little suggestion so Julie came over to work her magic in office with us and, walla, finalized the piece. (The best part was just getting some hangtime with Julie.) Next step: professional photograph.
New website progress: Met with Christian and Daniel for an update on the web development project, and was presented with impressive and comprehensive Project Proposal document, solidifying our path and offering some real momentum to this prolonged yet all-important project. And with something so solid in hand, the excitement is mounting. We are truly blessed with some real talent for this project.
Prison Ministry: Caught up on the Prison Ministry, sending out some catalog letters and forwarding correspondence on to volunteers Sam and A. Whitecrow.
Translations out the wazoo: The steady stream of translation work continues unabated. Not only did we work with Jochen to create...a soon-to-be-revealed surprise, he also sent in another German transcript. Adam also sent in three Polish translations. The translation work never ceases to amaze us! The transcripts were formatted and then posted to the archive site:
Translation product pages: And with even more help from Jochen, created two new product pages for translations:
Transcript PDFs: Got back in touch with Tomas, who formats the channeling transcripts to be published in PDF format. After another summer break, he returns to offer his unwavering service.
The development of the Asheville announcement: As you may imagine, no small amount of work went into reaching the point of and then constructing the announcement about an L/L office in Asheville. Some day we will regale you with the full story, but the short of it is that the vision for the L/L office was, quite to the surprise of the parties involved, discovered by Aaron Maret and Gary during Gary and Trisha's 11-day visit to Asheville in July. Followed by meetings with Jim and Austin, then a full day of meetings with a delegation of five from Asheville of Karin, Jan, BJ, Jess, Aaron, along with Jim, Morris, Austin, Trish, and Gary, followed by a board vote, building the announcement, lots of cross-organization dialogue, and then publishing the announcement on websites and in the gatherings newsletter. All while keeping this L/L engine going. With Europe next week, this has been the most intense crunch period with barely a moment to catch the breath at times when the many other pressures of head-spinning personal catalyses in the home life (that don't make this report) are factored in.

The constant companions: Kept up with the weekly tasks and services, including packing and shipping book orders, responding to all sorts of emails from seekers, retrieving and processing PO box mail, slugging through the keeping of the books, sharing the Confederation (thank you, Trisha) via social media, petting the cats, etc. And a thank you to Jeremy W. for his constant vigil in sharing Confederation quotes via L/L's Twitter page.
Prague Law of One Seeker Gathering: Lots of work with Vojta and team including receiving and reviewing the meal plan they invested a lot of work into, finalizing the curriculum and open space formats, emailing the attendees the aforementioned items along with all remaining gathering information, planning the Thursday/Friday schedules with the Czech team, planning our own travel/lodging details, working with Pupak's ideas of a gifting table, sending money to the Czech team for purchases and other budgetary items.
Law of One Interview project: Additionally, work on the project following the Prague gathering to spend a couple days with two videographers from Munich conducting an interview, and spending productive time with three L/L translators Misha, Jochen, and Vojta. Work included: using Trisha's great research to give team two its objective, working with Vojta to book train tickets (thank you, Vojta), receiving donation from a generous friend to support two of the team in their lodging, and working with our new friends and videographers designing the interview, Nadine and Thomas.
Itineraries and Europe To Do: As if the above two bullet points were not enough, built our detailed itineraries for the trip with all travel/lodging/contact info and created packets for everyone and saw to many points of planning and preparing and supporting Jim.
Rome: Coordinated with Gianluca, the Italian translator, about meeting Italian seekers in Rome and spending time with him.
One Center: Received the semi-annual report of Chinese-language book sales from the Taiwanese One Center.
All Channelings All the Time: Relayed Jim's notice to the local meditation group that he has decided to eliminate all future silent meditations in favor of Q'uo channelings. That means that there will be four Q'uo channelings per month to publish to the archive website!
Light/Lines Newsletter: Built, formatted, and sent the Light/Lines Newsletter for the fall season. Jim chose the Jan 19, 2019 session for this issue: https://www.llresearch.org/newsletters/indexes/2019.aspx.
Russian translations: Received communication from a Russian seeker about his interest in hiring existing Russian translators to get the entire transcript library translated! First we've run into this sort of prospect.
Organizational discussion: continued intensive look into structure-of-organization questions per the proposal of a dear friend. In the process of formulating a ten-page reply, gained great insight into our operation.
Carla still with us: transferred a 1991 letter tape of Carla's to mp3 and got that, along with the past two Q'uo channelings, over to Aaron T. for transcript. Go Aaron!
Exploratory Film Process: Dove into an email with Roger R. about the docuseries project, discussing a possible visit, schedule, items that could be used as source or reference material, and the 30 hours of footage from the Tilting at Windmills interviews.
Polish translator: Dialogued with the Polish translator, Adam R., learning of his project to launch a local support group for seekers of his language.
Met with Morris: If you don't know him, Morris is literally L/L's oldest friend. Not old in age but in his years with the organization. He knew Carla and Don as a youngster, and if fate would have made a different turn, he would have been us before there was an us. He has been living with Jim for the past month as he is in town for businss, and it has been so wonderful having him around, kind of like a grown-up Luke Skywalker. We met with Morris on a complex contractual question about publication of one of L/L's titles.
And that concludes the report for a while! (Would you believe that Google translate gave a French word for "blogworthy.") In several days we will enter Earth's atmosphere and by some magic still relatively new in human evolution, step out of the sky and step foot onto a different continent, with uncomfortable seats along the way. We will meet with eight Law of One translators of five languages (Czech, French, Hungarian, Italian, and German), along with meeting five of those eight for the first time in person (Jochen, Bara, Radim, Laszlo, and Gianluca), along with dozens of new faces, conduct our first international gathering in collaboration with the Czech translation team (and the most international with people multiple countries), undertake a two-day interview in the Alps, spend time with the Italian translator in Rome and meet seekers of the same country, and help to empower the Czech team and translators to network with one another and potentially conduct their own gatherings in the future.
We've worked very hard for this. We look forward to being back with you, but before then, we look forward to EUROPE!!!

0 Comments

Add a comment
We've been on two week cycles lately. This report runs 9/8 - 9/20. It is always written by both Gary and Austin. Gary adds the personal tidbits afterward.
Channeling season kickoff: The new channeling season kicked off with Homecoming. Aaron T. returned another skillful transcript of the audio, which was edited, formatted, and subsequently published to the library: 2019.09.01
Channeling Archive ebooks: Continued working with super volunteers Dale and Maria, who have been turning the channeling archives into e-books to mirror the 18-volume physical set. These books were previously only available as hard copies, with no PDFs on the website (as all of the transcripts were already contained in the digital archive). But with the ebooks coming in, the whole thing was redesigned to share the PDFs, the ebooks, and make locating, downloading, and purchasing these volumes easier for anyone interested. Seriously, check out the ongoing work here!
Audiobook work: With The Ra Contact Volume 1 going live, there was a feeling of passing a finish line that was actually just the first goal in a long process. So review of the audiobook manuscript and audio for Volume 2 continues as Trish continues the meticulous editing process.
Speaking of: Did you hear that Volume 1 is now available via Audible? It is! Look! Initial feedback has been encouraging and heartwarming.
Organizational discussion: The past couple of years have been quite active and transformative for L/L Research, and the ongoing process has helped us to clarify many organizational questions internally. The process has involved many facets, including critical feedback and difficult discussions with friends and volunteers about the internal processes of L/L Research. Over those two years, some periods have been of much higher intensity (both in activity and emotion) than others. These past two weeks would be among the more intense periods of discussion and deliberation. It is not always an easy or joyful process to go through, but we continuously attempt to center ourselves in our hearts and recognize the duty/honor of our service that is shared with many individuals who have various relationships with L/L Research. We're all working for a higher good.
Prague Law of One Seeker Gathering: approaches quickly. But still lots of work to do. From helping another translator to attend to learning unfortunately that Jochen would need to cancel attendance (though we're still crossing fingers we'll get to meet him afterward); to processing scholarships; to pitching an idea to all the translators who will be there to hold a translators' session during one of the open space spots (which got enthusiastic affirmations in reply); to dialoguing with Vojta; to receiving the Czech team's food plans ($100 under budget!), and their initial sketch of a curriculum; to spending a nice chunk of time formatting and revising the curriculum; to planning for the coming steps! Two seats remaining for Prague. (And while working on this, the next gathering, put together the follow-up, final email for the previous gathering, saying goodbye to Homecoming 2019.)
Post-Prague Interview: Also lots of working with Thomas and Nadine to get all the logistics set up for the interview, from the meals, lodging, shuffling roster, itinerary, and the interview structure and questions. Had a great Skype meeting with the two who are always such a pleasure to talk with. We four always have lots of smiles and laughs while being productive.
Session 26: arrived in Louisville translated into Bulgarian courtesy of the skilled and funny Kirilina. Thank you, Kirilina!
Ra strikes again! This time through the hardworking efforts of the amazing Czech translation team of Bara, Radim, Vojta, and Roman who have rendered Book II into Czech! Congratulation, team! And on behalf of L/L Research and all of planet Earth (sometimes you gotta cover the bases), thank you.
Tilting at Windmills Interview: You know that 600-page tome that is the book Tilting at Windmills? It came from interviews that were filmed on a volunteer basis by our dear friend and multiply talented videographer, Ken Wendt. He got a project underway to unify the two camera angles for their subsequent round of editing. Worked with Ken on the process and hunting down missing videos.
Gratitude for the Law of One: I (which "I"? It's unimportant) have tossed around the idea of creating a section on the new website (it must manifest one day) that would share snippets of the gratitude that L/L receives from the readership for the material and/or the organization's service. Here's a thought from one of the translators: "I am so in love with the materials from the LL Research, I feel its resonance, its honesty, its innocent and its pureness of seeking, as you probably hear already from other many readers who experience this magical moment. And everyday, i drink those words as my "breakfast", thank you for your work as well in facebook and other easily accessible quotes from this material in social media."
Next Gen Channels: Though not part of our office duties because it is a volunteer, outside-of-the-office-hours vocational service, much like attending and helping Jim to facilitate the weekly public meditations, we met with the senior channel with the mostest, Jim, to practice channeling. We were rejoined by fellow co-channeler Kathy! So great to have her back in the circle. Trish was unfortunately experiencing medical difficulty this night. Austin and Gary (us) continued taking Q&As after the main question.
57.17: Received word from Tobey and Michelle that Michelle had discovered a slight tweak to 57.17 that made so much syntactical sense. It corrected assumed words in the space of a tape flip. Tobey updated lawofone.info and we'll do the same for The Ra Contact come time that it's due for a third printing. Thank you, Michelle! Still editing we see. :)

T-shirts: Worked with Trish on her project to create t-shirts for the readership. At Homecoming we showcased a few of the funny versions she created, 98% of them will feature inspiring Ra quotes. Should go live within the next couple of weeks.
71-80: Met to process Sessions 71 - 80 of the Ra Contact sessions to transfer to Trish for her work on the audiobook.
The weeklies: Did them, like processing, packaging, and shipping book orders. Holding the financial dimension of L/L's universe. And, though not a weekly, let's put it here: Had to dialogue with the CPA. Some teeth were ground.
Qi Research and Development: How could would it be to say that we had the time to do that. Alas, the next best thing, John T. lightning fast turned around a transcript from his Homecoming presentation. Reminding us that we need to get caught up on the Homecoming backlog. Which also started a project to get the online archive of photos back up and updated. Ran into a technical snag.
Seeker email: We have a weekly rhythm of replying to seeker email and in this two-week period had the honor of replies to two rounds of seeker email.
A Belgian encounter: Received a wonderful anecdote from the wonderful Misha about how she crossed paths with a gentleman in a shoe that led to progressively deeper questions about her life that led to sharing the Law of One with him. She reported that he was very excited. Imagine running into the French translator in the shoe store as your means of "stumbling on" this work.

We also, celebrated Misha's birthday! She grows wiser every year, or as she says, ancient. (We're sticking with wise.)


This is a prayer that Mother Theresa had on her wall. It was taped on my desk in the L/L office for many years:
People are often unreasonable, illogical, and self-centered.
Forgive them anyway.


If you are kind,
people may accuse you of selfish ulterior motives.
Be kind anyway.


If you are successful,
you will win some false friends and some true enemies.
Succeed anyway.


If you are honest and frank,
people may cheat you.
Be honest and frank anyway.


What you spend years building,
someone could destroy overnight.
Build anyway.


If you find serenity and happiness,
they may be jealous.
Be happy anyway.


The good you do today,
people will often forget tomorrow.
Do good anyway.


Give the world the best you have,
and it may never be enough.
Give the best you've got anyway.


You see,
in the final analysis it is between you and God;
it was never between you and them anyway.


0 Comments

Add a comment
This report runs the two weeks of 8/25 - 9/7. Not only did our annual Homecoming Gathering happen, but this! ...
The Ra Contact: Teaching the Law of One Volume1 Audiobook: Four years in the making. It was four years ago that the incredible Sam W. came over, helped us set up a home studio, and lent us all of the equipment we'd need for Jim to record all of L/L's library. Jim poured his heart into the effort, recording the entire material 3.5 times. After he'd accomplished that amazing task (as well as recording every other L/L book), we were sitting on a treasure trove of audiobooks, but failed to find the time to edit, master, and publish all of it (quite a time-consuming task given our recording setup and techniques). We sent the audio off to Jade for the first listening, where she'd compare the audio and the transcript, marking all necessary changes, edits, and reviews. And then a Heaven-send: Trish was able to join the team and bravely took up the task of accomplishing all necessary edits and offering the final review. Thanks to her talents and thoroughness, accomplishing all edits and much audio polishing along the way, we were able to finally master and submit the audio files to Audible. It got approved a week ago, and then yesterday, it was finally put up for sale on Audible, Amazon, and iTunes. We are super, super excited to finally have this out, with work on Volume 2 underway, and then the rest of the L/L library. All narrated by the one and only Jim McCarty. Please join us in a dance of joy!
The audiobook is available through Audible.com. You can get it for free by signing up for a free trial. Click here to learn more or purchase the audiobook.


Translations: Had another productive couple of weeks on the translation front, receiving the final pieces of the Indonesian translation of The Ra Contact, Volume 1. Now all that is left is the somewhat tedious job of formatting per Ra Contact standards.
Also received and published:
Practice Channeling Transcript: Also edited then published the most recent practice channeling transcript, thanks to Aaron T. whipping up another excellent transcription: https://llresearch.org/homecomings/channeling_circles/practice_circles/2019_0821.aspx
Cyclical tasks: Did all the other typical constant tasks, including:

packed and shipped book orders
made minor updates and corrections to the archive site
responded to a variety of seeker email
retrieved and processed PO box mail
performed the weekly and growing bookkeeping

There is some comfort in the regularity of the constant tasks, and they are done with gratitude for the opportunity.
Prague Seeker Gathering: Vojta of the Czech translation team arrived in town five days prior to Homecoming to collaborate on other projects and volunteer for the event. We met once before Homecoming to finalize the curriculum plan for the upcoming Prague event. Then emailed the attendees, introducing everyone to open space technology and inviting them to use Vojta's new system to submit their presentation ideas.
Then met again with Vojta after Homecoming to continue planning logistics around the Prague event. And received great news that the Czech team will have Book II ready soon!
Documentary: Met over the phone with Roger and Doug about a documentary. We considered every point thoroughly, sought consultation, grilled them with questions, and had multiple emails and online/phone meetings. The end result is buoyant positivity and a sense that this is a blessed project. Roger and Doug seem to have all the right qualities and a pure motivation to serve the same mission that L/L Research and all wanderers serve: to help lighten the planetary vibration, to help awaken or deepen the awakening of spiritual seekers, and to assist with the birth of fourth density.
Interview: Went through the full list of interview questions for the video interview that we will sit for after the Prague event, and bounced them back to the videographers/interviews Thomas and Nadine.
Public meditations: Resumed the weekly public meditations led by Jim!
Italian meeting: Received update from Gianluca about meeting Italian law of one seekers in Rome.
Hebrew translation: Helped Laurie transfer the Hebrew translation of the Ra Contact to Jed, learning that Laurie had reached up to Session 15!
Morris meeting: L/L's longest standing member and presently Chair of the Board, Morris, is in Louisville for business for several weeks. Used the opportunity to meet with him on L/L matters.
Media production: Received update from Zak K. that the contracted writer will put together a pitch this fall for a fictional series.
Prague Gathering: Filled the last seat for the Prague Law of One Seeker Gathering! Wait list is now open.
Homecoming Production: And in the same time span that all of the above was done, Homecoming was produced and conducted. Vojta arrived five days in advance, Jade and Joseph three days. Together we (Austin, Trish, Gary) teamed up and got it done. A sampling of our work in the lead up to Homecoming: created, printed, assembled handouts; cleaned floors, rooms, surfaces, and bathrooms; emailed attendees final information including parking, weather, carpooling logistics, airport pick-up/drop-offs; coordinated airport transportation; made final purchases at stores; made two massive grocery store runs for supplies and food for 40 people; transported to the house and finished Trisha's week's worth of food preparation for Friday dinner, Saturday and Sunday lunches; set up an honor system booth for purchasing L/L books during the event; received the 40x40 canopy tent and the portable restroom; set up signs around the house to guide 40 people through a private residence; transported all chairs and backjacks and set up the circle under the tent and a smoker's area elsewhere; collectively chose and planned an innovation for Homecoming that included using "authentic relating games" for Friday night's opener; installed tiki torches with oil; strung lights around tent canopy and front yard; installed burlap curtains around 160 ft of tent; rearranged the living room to accommodate more people; created and affixed name tags for the water bottles we gifted to attendees this year (trying to be more green by reducing disposable water bottle usage); set up the food tables in the garage; planned breakfast set-up (thank you, Jade!); set up water refilling stations; along with a dozen other unnamed things and all this in reverse come Monday - Thursday clean up.
Homecoming reflection:
Now, more personal reflections into Homecoming. Every single year without exception we are seeking improvement, whether to production, or attendee experience, or both. One of the sources of improvement this year has been the cross-pollination with the Asheville group and our co-created event: Coming Home to a New Earth Gathering. From them we learned about authentic relating games, which is a profound means of creating safe space to open, share, and connect authentically. We employed those for the first time on the opening night of Homecoming.
We also learned from open space technology the value of simultaneous presentations. So we innovated and for the first time created simultaneous presentations, one in the tent, one in the living room where people managed to squeeze in half the circle! It was a hit, we learned, during another first: holding a "meta-homecoming" session where we as a circle reflected on Homecoming itself. (Three-quarters of the 40 attendees are return attendees, many year after year.) Here is this year's curriculum if interested: https://llresearch.org/homecomings/homecoming_2019/curriculum_2019.pdf.
And then there was the undisputed star of the event: Trisha Bean. This is her eighth consecutive Homecoming. Despite leading and usually single-handedly taking on the meal production, she has struggled with feelings of being on the outside and feeling unworthy to belong in the circle. This feeling persists no matter how many doors are opened and encouragement offered. It's gradually lessened over the years but it was not until Coming Home in Asheville that Trish found integration. She experienced what they call a "heart share," which creates the space in an intimate circle to fully open to others to the extent desired. It was powerful for her and it was, in our opinion, key to making Coming Home a transformational event, as it shares actual catalyst in an overwhelmingly supportive environment where one can be seen.
Trish was so affected that she decided to offer her first ever presentation at Homecoming, so she held a heart share on Sunday morning in the living room. There were tears, joy, and intensive movement of emotion. It was so appreciated that the circle requested a follow-up during lunch.
This would be incredible enough, but Trish also cooked an ungodly amount of healthy, delicious food for 40 people, and lead the taxing effort of the kitchen set-up/clean-up effort (excepting Jade setting up for breakfast (thank you, Jade!!)), and offered Homecoming's first yoga during lunch, and did her first co-presentation with me, Gary. We each opened up about our marital journey and the crises of the past year and our subsequent transformation, with group discussion about intimacy in and outside of a committed relationship.
This was Jade's fourth time volunteering for Homecoming production, Vojta's third, and Joseph's first. The first two knew the drill so well, combined with Joseph's focus and motivation, that together with Austin and Trish, we made an ace team. And I implemented a new use of technology that made the production so much more efficient. I built the entire list of production items (over 100 total) into an app and then invited everyone to share the app. The app syncs between phones, so that when a task is completed, it's marked off of all our lists, and the same when a task is added. It unified our efforts and took much of my own shoulders.
Each offering at Homecoming could be highlighted for its virtue, from Vojta's creation of essential oils for everyone, to Austin's discussion of blue-ray wisdom in balance with green-ray love, to Lily's moving story of her discovery of Jesus, to Eddie's deep insight into the Parablg oef the prodigal son, to Suzanna's reflections on her journey toward authenticity, to Lynn's reflections on her journey with the dark side, to Jonathan's dive into divine love, to our (Trish and Gary) sharing of our marital journey, to John's fantastic, truly mind-blowing display of qi energy, to Beatriz's demonstration of the pH balancing effects of Homecoming, to Trisha's heart circle, to Zachary's use of andarra crystals for healing, to Ken's live musical performance with a full drum set, to Bob's merkaba balancing, to Morris's sharing on the values of mindfulness, to the meta-Homecoming discussion, to the Q'uo channeling!
Thank you everyone who lifted this event in the love and the light of the One Creator, including Jim who helped the yard sing and shine with beauty and praise to the One.

0 Comments

Add a comment
This BW runs the week from 8/19 - 8/24
Secrets of the UFO in French: It is quite a thing to witness the translation powerhouse known as Misha, along with the publishing efforts of the industrious Jochen. With their efforts combined, along with small final touches and web publishing work on this end, the French translation of Secrets of the UFO (OVNI - Les messages) was published this week! The paperback and Kindle versions will be coming soon. Free PDF available here: https://llresearch.org/library/secrets_of_the_ufo_french/secrets_of_the_ufo_french.aspx
Ra Contact YouTube: Finalized and published the 14th Ra Contact audio+text session to Youtube: https://youtu.be/RBTYqdfHAho
Law of One Book II in Romanian: And thanks to Horia, the Romanian translation of Book II was also published this week. Thank you Horia! Available here: https://llresearch.org/library/the_law_of_one_romanian/romanian_translation.aspx
Bulgarian translations: And as if that weren't enough, we were blessed with two more channeling transcript translations from Kirilina, another translator liberal with their service! Formatted and published to the archive website:
Channeling Archive ebooks: Continued working with the studious Dale and Maria, who are creating ebook verisons of the 18-volume Channeling Archive set. Continued working out small formatting kinks and details, along with designed a new page to present the entire set on the archive site library. The first three are technically done, but need some minor bugs fixed before they can be published. We are blessed that Dale and Maria reached out proactively to offer their services, making this material available in even more ways.
Podcast sadness: First, it was sadly discovered that the last episode we recorded of the podcast (rebranded as The L/L Research Law of One Podcast) was lost completely to time. Then, in true one-two punch fashion, another calamity fell upon us. We recorded another episode, and it was a great discussion led by Gary about the concept of attention and its applications to the spiritual life. Upon completion, though, it was discovered that it recorded on the small laptop microphone rather than the nice podcast setup we have. And it sounds pretty bad. Gary and Jim tried their best to keep Austin from self-flagellation as penance. We will publish the most recent episode in some way yet to be determined. Apologies to anyone who has been waiting on a new episode. We are still dedicated to this podcast!
Sliding into home plate with the audiobook: With a final push, thanks to Trish skillfully wrapping up the massive editing job for Volume 1, and Jim recording the very final piece needed, all of the files were mastered and formatted to fit Audible specifications. Cover art produced and all details filled out, the files were then uploaded and submitted to Audible. How long will it take to get approved? Stay tuned for the answer!
New Website: Met with Christian and the development team and the website development team - which just included Ben in this case, our first time meeting in video, the other two being unavailable - to talk about L/L's new site. Christian thinks it is still on course for a December launch. Appendages crossed.
Portuguese 101: Signed a contract with Marcador publishing in Portugual for the Portuguese rights to Living the Law of One 101!
Apparel: Combed the Ra Contact for pithy Ra quotes to place on t-shirts and met with Trisha in the office to select our best and combine them with Jim's. Trish is leading a project to resurrect t-shirts for the readership. The response to some early surveying on L/L FB was very encouraging. Explored the logistics of the project and supported Trish in getting our first few for the upcoming Homecoming.
Practice Channeling: Met with the senior channel with the most, Jim McCarty, Tuesday evening for the month's practice channeling circle. Gary is striving to meet Austin's bar-raising standards and took his first dive into taking spontaneously generated questions.
2018 Donor/Volunteer Thank You: Kept running into a snag getting our annual thank you list for Donors and Volunteers, so found a workaround and published it them to Bring4th, finally. https://bring4th.org/donate/
Scholarships: Relayed communication from the Czech translation team to the scholarships awardees and non. The CZ team had the unenviable tasks of selecting two recipients of the scholarships they paid for for the upcoming Prague Law of One Seeker Gathering.
Post-Prague Interview: Continued working with the fantastic Nadine and Thomas to plan a video interview with the L/L team in the days following the Prague event.
Homecoming: Lots of Homecoming work including taking the entire week's planner for production details and building it into an app that can be shared with volunteers that arrive early. Pretty genius of us. This way everyone knows what needs done without needing lists on paper, and can cross off finished items, alerting everyone else. Also wrote everyone for their hotel information, built the arriving/departing transportation schedule for the airport to arrange pick-ups and drop-offs and emailed everyone flying in how they will be picked up, created this year's parking map for the 20+ cars to park in L/L's and neighbor's driveways, emailed the attendees all needed logistical info, and processed a final cancellation + wait list.
Cover Art: Joined with Aaron Maret to discuss the latest round of cover art for the Concept Guide from the fantastic Julie Joy. And continued multi-party editing of the text of that book.
Prague: Processed a couple new registrations. Just four seats left now.
Normal hubbub: All of those typical tasks that happen throughout the week, such as packing and shipping book orders, responding to various sorts of seeker email (including from Paul who had a fresh perspective on the troublesome Q&As in the RC about homosexuality), minor archive site maintenance, the weekly balancing of the financial world, and the random tasks that pop up. All done with joy and appreciation for the incredible opportunity to be a part of this amazing service.
And with that, we enter the season of Homecoming-palooza. Vojta (Czech translator and dear friend) arrives tomorrow, two more volunteers (Jade and Joseph) on Tuesday, and come Wednesday, we'll kick into high gear and be swimming in everything Homecoming. Then Friday, 40 people will gather in a circle to share in the open heart and seeking the Creator. The next Blogworthy thus will be a couple weeks away. Homecoming Gathering here we come!

0 Comments

Add a comment
S
M
T
W
T
F
S

1

2

3

4

5

6

7

8

9

10

11

12

13

14

15

16

17

18

19

20

21

22

23

24

25

26

27

28

29

30

31

| | | |
| --- | --- | --- |
| =Blog Entry | | =Today |