I took Lana to the airport this morning with a stop at a café for a final conversation. Austin, myself and others all had quite the bonding time with this ambassador from Sweden. It was sad to see her go, especially as her departure marks the official end to the wedding festivities. What a weekend of magic and tangible perfection.
I will start by telling you that Trish and I wrote our ceremony from scratch. I was so excited by its content. We included concepts of consciousness, spiritual evolution, service, love and light, that we are each the one infinite Creator, and I even snuck a Ra passage in there! (The one about how we are all players upon a stage that is undergirded by the majesty of the One Creator. 104.26) I've been somewhat in the closet, so to speak, with people, especially family and old friends, who don't quite share my spiritual walk, so it was freeing and empowering to more fully share and communicate the content of my heart of hearts.
We were worried it might be too long, or it might not inspire or catch the attention, but on both accounts there was no need for concern. We received feedback filled with superlatives. Though it is difficult to really know because, as happens when parents have a baby, the only feedback you receive will be positive. But it the gratitude and the words all felt very genuine.
Beginning an hour prior to the Processional, the DJ played a selection of songs that Trish and I chose for those waiting in their seats, but the DJ unfortunately was using a free Spotify account (versus the paid kind), which means that Spotify commercials were inserted! It was to no loss, though, as it and a few other inevitable hiccups added to the humor and uniqueness of the event.
After the Processional concluded (Trish being escorted by her father to Elton John's "Your Song", and all of us before them walking to Coldplay's "Strawberry Swing"), we began our ceremony by breaking with convention and turning to face the 212 people in attendance. In most weddings, the bride and groom walk down the aisle, move through the rituals, and then depart with little to no interaction with those who came to share the event. Which is fine - there is nothing whatsoever wrong with that, but we wanted to make a connection to our loved ones, and to genuinely thank them for giving us the wedding with their presence.
We also thanked some of the most fundamentally important other selves in our lives, including our parents, my stepdad, and then Jim and Carla. We explained that our officiant, Ken Wendt, is a dear friend of ours with whom we share a common bond of open-hearted spirituality, and with whom I've hiked for miles and days through the mountains; and how he, through the Church of Latter Day Dude, came to receive an ordination as a dudeist priest. (Quite serious! It is an organization that grew out of The Big Lewboski.) Ken absolutely knocked it out of the park.
And we briefly provided some orientation, explaining that the ceremony was our own and that the significant work we invested into it was but a fraction of the work we would put into our relationship. We received so much love, and got quite a few laughs as we laced our very sincere and meaningful ceremony with lighthearted humor. (Balancing the meaningful and profound with the lightheart has been a style I've been crafting as L/L Research's administrator for some years, though not always to perfection.)
Carla was gracious enough to follow our intro and officially open the ceremony with a blessing. It felt so good to publicly honor Carla and Jim in front of so many loved ones for the gift they've offered me. It is through the environment they gave me that I've grown into and through adulthood.Quantum leaps from where I was when they first met me twelve years ago. So much more comfortable in my own skin and much more self-known. Being able simply to turn and address 200+ people so confidently (which isn't to say there wasn't huge anxiety leading up to the moment!) is something that would have been impossible just a few years ago, and is thanks in no small part to their contribution to my incarnation, along with lots of help from friends and family I've received along the way.
After Carla gave the opening, Trish and I underwent a Unity Candle ceremony to signify our intention to become one. Trish found some beautifully crafted candles on Etsy that, it would so happen, were created and shipped from a woman in Israel, and the Unity Candle rested on an embroidered piece of white fabric gifted and sent to us from Micheline in Belgium, a dear friend and the French translator of the Law of One who had had this in her family for over a century.
Following that was a short reading by one of my best friends and "groomsman", Jessica, and another short reading by my awesome sister Noelle who I actually had read Q'uo! (Identified as such as well.) Then a Hand Fasting ceremony whereby Ken, our officiant, wrapped differently colored ribbons around Trisha's and my joined hands. Each ribbon signified some ideal or principle to which we wished to commit our lives, including: Service, Responding to Suffering (with compassion and intent to help), Honory/Duty, Walking the High Road, Learning & Growing, the Open Heart, and Seeking the Creator. Each ribbon's significance was explained in the process.
Next a reading of Dr. Suess' "Oh the Places You'll Go" by one of Trisha's best friends and bridesmaids, Amanda. And then the exchange of Trisha's and my personal vows to each other in the risk of rain as a few drops hit us and everyone attending. Mine was heartfelt and got some laughs, but it was Trish who opened up everyone's heart very wide as she communicated with tears from a place of purity and loving devotion, reflecting on her own struggles in her life and her certainty just four years ago that, due to her medical condition, she would always be alone.
Sometime around here the mic's battery went out! Fortunately we had a back-up wireless headset that Ken was able to hold out for us when speaking.
Another hiccup smoothed over.
This was followed by Ken asking the ringmaster - Trisha's great five-year old nephew identified as "Jesse Marshall-Bingham Spiderman Peter Parker Iron Spider Chocolate Ice Cream Marshmallow w/Cherries on Top" - for the rings to be brought to the altar.
After we received the rings, Trish and I repeated in unison our vows read by Ken, and then placed the ring on each other's fingers. And finally the saying of the common legal vow, a kissing of bride and groom, a pronouncement of man and wife, and a turning to the audience as the DJ (in an adjacent courtyard) cued up the end credits theme song to Star Wars Episode 3!! (I edited the song to begin right at the moment the song pops into triumphant jubilation, and then faded it out a couple minutes later into the Cloud Atlas finale song.) IT WAS AWESOME. We held up our joined hands together in victory.
And the bride... my eyes have never seen anything more beautiful. Infinity could not have squeezed another speck of beauty into Trish. Our eyes were locked on one another nearly the whole time. She was beyond words. I am so in love with this other third-density self. I cannot believe my lucky stars for the opportunity to share a road with her, and to call my absolute number one best friend my "wife"! (What a strange word that still is on my tongue!)
We were hoping to get the ceremony finished within 35 minutes, but the whole thing, Processional and Recessional included, took about an hour! It seemed like it was ten minutes though. It however had the unfortunate effect of rushing the picture taking with family and the wedding party. But we got done in time for the most part and got the reception started just ten minutes late. As the wedding party filed in, the DJ said Trisha's name and my own for our best man and maid of honor, much to everyone's laughter. Then he lost Noelle's name, but this did not deter her. Without skipping a beat she made her entrance while pumping her fist into the air and chanting her name, trying to get everyone to join her, followed by a dance across the dance floor.
The reception, inside of a 40 x 120' tent, was an absolute blast, and felt like it went by in five minutes. Trisha's maid of honor, Lora, gave a speech that was honestly worthy of stand-up comedy... and probably was a stand-up routine as it must have clocked in at 20 minutes. She had everyone in stitches. And my best man, Steve, gave a speech that was hilarious and equally touching. The drinks were plenty and the playlist for the DJ we created had people on the dance floor throughout the night.
And the cakes were naturally gorgeous, being made as they were by the mother of the groom. She flew from Phoenix to Cleveland, made all the cakes there and then drove them to Louisville. Thank you, mom!
One of the absolutely most amazing and surreal things about the entire experience was how people from different sections of our life, who would never otherwise cross paths, were together in the same place, under the same tent. We were getting absolutely giddy in anticipation of that fact leading up to the wedding. Uncles and aunts, cousins, parents, siblings, one grandparent, school friends, spiritual friends. For the first time there was a real mixing of my old pre-Law of One life with the new L/L Research world of my adult life.
One of my greatest joys in life is seeing people I love, who don't know one another, meet, connect, and enjoy each other. I don't even need to participate. I am happy to step back and bear witness to their own connection forming. It makes me so damned happy to think that this person who I know is absolutely awesome, gets to meet this other person I know is likewise of super high awesome quotient. Among the connections made, my very dear friend Jeremy W. (who goes back to the beginning of my relationship with L/L Research) finally got to meet the likes of Austin, Ken, and Seph, and those three got to meet my parents and three siblings, and that group got to meet Jim and Carla, and.... and a hundred other combinations across the mixing of the bride and groom's side.
It was also beautiful that half of my own wedding party consisted of L/L people - including Austin, Sephira, and Steve E. who is both L/L's volunteer webmaster and my best man; our officiant Ken was of the L/L variety - we having met at Homecoming over four years ago; and a good number in attendance were of this demographic as well, including Fox, Brittany, Tobey, Sam, Eddie, Doug & Kim, and their significant others.
What I do as administrator is only a "job" in the superficial sense. It is more fundamentally a participation in spiritual family. So many of the people that both Trish and I love most on this planet, those who have given us the honor of being their friends, we have met through spiritual seeking and through this little organization known as L/L Research.
The wedding was love and light in human form. : )
AND NOW I'M MARRIED!!!!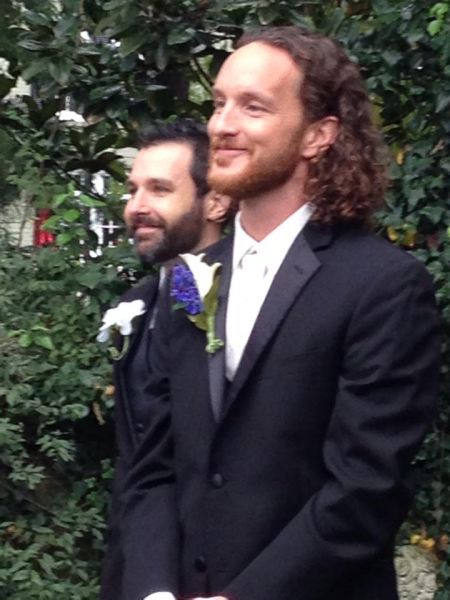 The groom glowing as the bride approaches the altar, with the officiant in the background.