How often do you look at the events that make up your day? Do you spend a few minutes every morning or evening reflecting on each gift and experience that went into the making of your day?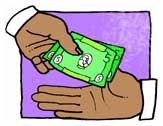 I tend to analyze things as they happen, mentally ditching anything that seems trivial, and musing at the synchronicities or feelings of joy that sometimes pop into my day. One of the experiences that I tend to wrestle with the most is one where I suspect my higher-self is testing me. I feel this specifically when I pass a panhandler, a homeless person, or someone who seems less fortunate than I am (which is a huge judgment in itself, by the way! I have learned that there are many seemingly "less fortunate" people who live more in joy from day-to-day than I could ever hope to attain!).
Nonetheless, I have conditioned myself since childhood to resist or avoid giving out the little money that I had to those who asked for donations. Dodging those childhood bullets didn't last for long, as I soon found out working in Washington DC. These days, I'm actually more surprised to "not" be solicited by a panderer than I am to encounter one.
So why is it that I have such a hard time giving away the one dollar that has no chance of camping out in my wallet, anyway? And why do I feel like I don't trust the guy who claims he is saving up his change for a meal, instead of spending it on a nip of vodka that will keep him warm for an hour during these cold winter days? Should I not care whether the story is convincing or not?
Have any of you had these types of conditioned responses, or even continue to have them now? Have you thought about why you feel like this? Or have you moved into a state of compassion and trust, no matter how each situation presents itself?
It was only after I began thinking about my conflicted feelings of wanting to hold onto my money that I realized there's no point in doing so. Especially the more that I encountered the concept of "you only get what you give," and "what you give, you get in return, seven-fold." I then realized that I've been reading these words in different contexts throughout my life. I can remember reading it in the Bible, and I remember reading it in some Wiccan material. I heard it again while studying for a Reiki Master certificate, and it even reached me through that cheezy tune by The New Radicals, called... You guessed it! "You Get What You Give".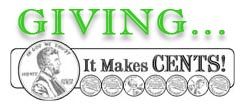 As I started to put the pieces together, the concept of "giving to get" started to take hold in my life. I decided to try giving away what I had, within a reasonble limit, of course. And so it began. If I bought a banana for myself at the hot dog stand, I bought two and gave one to someone should the opportunity likely arise. When I ventured outside for lunch, I often reached into my wallet ahead of time just to have a dollar on hand instead of launching into the bad habit of patting myself down in front of someone in need, saying "Nope! Sorry, no change..."
After forcing myself to do this for a few months, I started to feel good about it! I even found myself hinting to my colleagues after a panhandling encounter that it's so important to give in order to get back. But wait... All this giving.. Was I really getting back? I don't know, really, and it almost didn't seem to matter to me anymore. More importantly, I soon learned how to enjoy giving, and found a small joy in making someone else happy by satisfying their request for help, despite whatever facade might be draped over the request. To me, I felt comfort in making the action, to answering the call.
It's a very interesting feeling to be put on the spot and asked to give of yourself, especially when you don't have a lot, either. But I believe that's for a reason--catalyst to help me really feel the pinch, to see if I can still find joy in what most people in my shoes would register as pain. So I am thankful for every opportunity, and am now a little more receptive to encountering those moments where I'm being tested to take the higher road or to give of myself when the asker may be in a better financial position than I am!
Find those moments that hurt you or challenge your old crusty thinking, and see if you can dig out some joy somewhere in that new moment of change. It really has an impact!