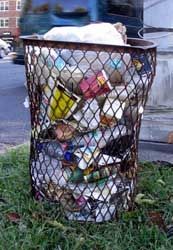 POP TRASH Overview
This category will be my "junk bin" of random observations and other moments of reality where I scratch my head and think, "What planet am I on again?!"
I will admit up front that I love pointing out the funnier side of life--personal moments that seem to perfectly perpetuate the existence of those "Beam me up, Scotty!" bumperstickers.
Hopefully, you all will excuse me for using this venue to air my personal moments aside from my esoteric postings. Who knows, perhaps you'll have a couple of moments of your own to contribute!