Greetings in love and light to everyone. As my first post, I wish to thank Carla and the llresearch / bring4th team for providing this virtual space where we can express our thoughts. This is where I shall be publishing my life's experiences and evolution-based lessons that relate to the topics discussed in the Ra Material.

I began experiencing heightened states of consciousness during my solitary college years. At first, they were simply states in which I was able to be creative and inspired. Over time, they became deeply transformative spiritual experiences that I later found to resemble those described by mystics and gurus. The feeling of oneness with the world, unconditional love, the appreciation of sacredness in everything, dualities collapsing, unnusually strong clarity and awareness, an open connection to the unconscious / inner self; these recurring qualities of being became a part of my inventory of experience and they eventually made my ordinary states feel uncomfortable and incredibly limited. Over time, I became entirely focused on reaching my higher states and, perhaps naively, attempting to directly share them with others through artistic and musical expression, as well as through the written word (you can browse a rather comprehensive body of my work at http://www.shiftingshadow.net).

When I graduated from college and took on a demanding, full-time job, my higher states became more and more difficult to reach, even though my determination to do so only grew over time. Subsequently, a curious thing began to occur: I started hallucinating an "X" almost whenever I closed my eyes, and this continues to occur to this very day (although now with less frequency).

Intuitions surfaced over the years as to the underlying meaning behind this symbol and I eventually realized that the "X" was a roadmap, albeit a simple one, that could shed much light upon how higher states of mind are reached.

My preliminary insights were simple, that one began in the lower middle portion of the "X" and the upper middle portion was a higher state or a spiritual transformation. I remember that the very first related image that surfaced from my subconscious depicted the upper portion with a rainbow and a palm tree, as if it were a heavenly paradise.

Over the years, exploring the "X" symbol developed into a rich system of thought that has enhanced my understanding of the spiritual experience, as well as other aspects of the field of Psychology in general. The following image highlights some of the basic ideas behind the "X" (by no means is it comprehensive) and suggests that the shape could be an archetypal pattern which informs not only certain psychological experiences, but various natural phenomena as well, namely those that involve vorticity (hurricanes, whirlpools, and black holes / white holes).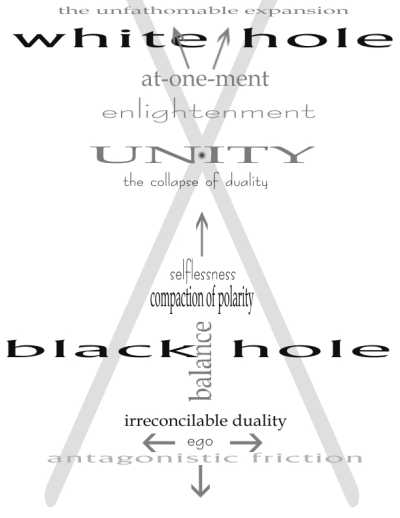 In summary, the X pattern describes a process of movement or transformation over time, an upwards traversal from the lower to the upper portion of the X. This typically involves 1) a compression, a compaction, or a funneling into a central point of focus, 2) a traversal through this point acting as a tiny portal, and 3) a release and/or expansion on the other side which, in the psychological case, is associated with a transformation. In vortex-based natural phenomena, the first part also involves spinning, which is also the case in some psychological scenarios that I will describe in subsequent posts.