Member: L/L Central
Location: Louisville, KY
Gender: Undisclosed
Interests: Gary Bean and Austin Bridges wear a lot of hats in attempting to meets the needs of the organization and the readership. Our weekly Blogworthy Report represents most of the diversity of our various honor/duties. In our work we have the added honor of collaborating with volunteers in the various projects and services that L/L Research offers. We love the Confederation philosophy, L/L Research, and the readership with all our hearts.

Search Results - All Categories
We wanted to make this our profile pic when launging The Blogworthy Report, but there's an issue with the system that won't let us change out the pic, which by default is the L/L logo, so we'll share us with you as a post.
The home crew! From left to right: Austin, Gary, Trish, Jim.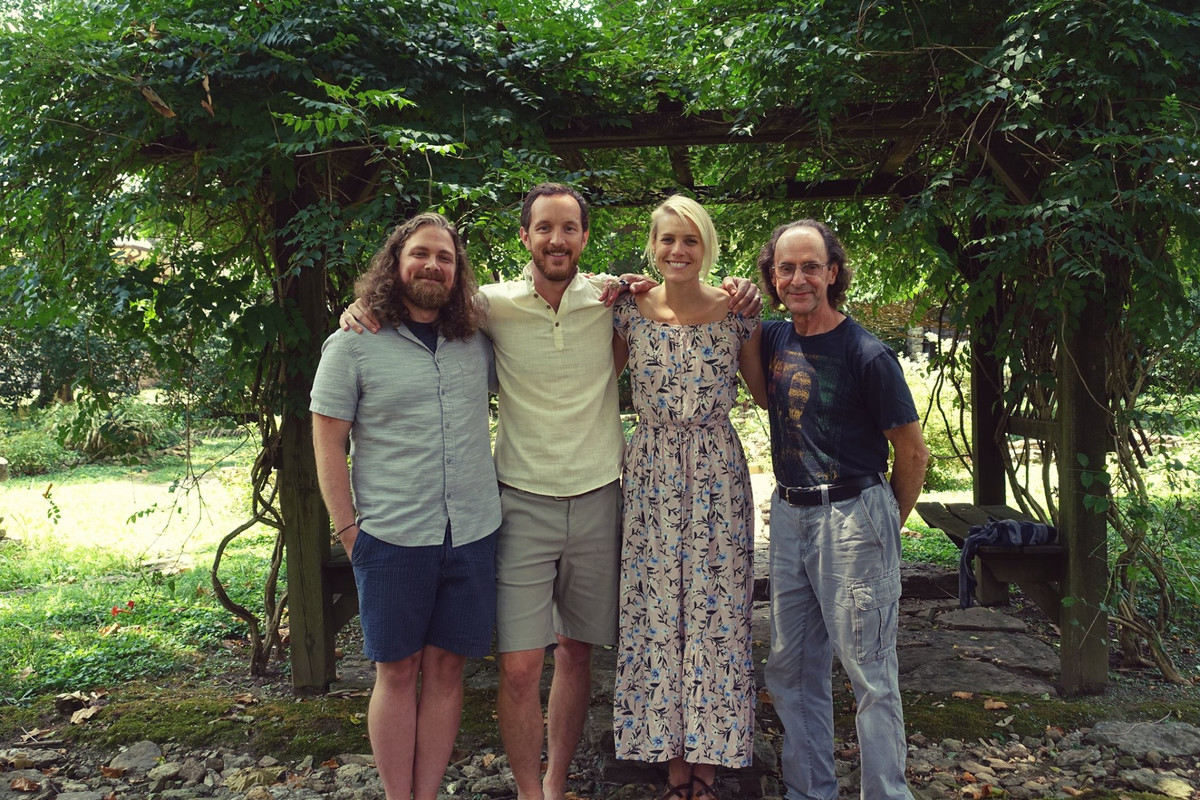 1 Comment

Add a comment

Edit article

Delete article
This report spans the two weeks from 9/22 - 10/4:
Dear Law of One family: We of L/L (Jim, Austin, Gary, Trisha, and the Board of Directors) would like to announce some exciting changes on the horizon. Two of our group, Gary and Trisha Bean, have chosen to be the forerunners of a new adventure with the intention of continued and expanded service to L/L. After a round table discussion and a unanimous vote by the board, Gary and Trish will move to Asheville, NC to establish a new L/L office. They, like others in our family, have found great resonance with the local community and all it has to offer, and we thank them for providing the initial spark that has grown into a new journey for L/L Research.

To read the text of the full announcement, please click A New Journey for L/L Research


English transcripts: Received FOUR transcripts from the volunteer powerhouse, Aaron T.! We edited, formatted, and posted these puppies to the archive website:
Etsy Store: We are also excited to have a second announcement in this two-week span, our newest venture: a merchandise store by way of the Etsy platform. With the help of community polling on our official Facebook page, we were able to generate some of your (and our) favorite Confederation quotes, which are now featured on various apparel and accessories. Please check out our shop at https://www.etsy.com/shop/LLResearch. All proceeds go towards supporting L/L's mission of providing our many publications for free. We'd love your feedback. And if you have suggestions for other quotes, please feel free to respond drop us a line via email.

Thank you all for your continued support! And many thanks to Trisha Bean for initiating and leading this project, and for working with us bearded guys. The last time we had t-shirts for sale was when Carla had them created for L/L.

Concept Guide Cover Art: Received from Julie J. her third iteration of the canvas and paint artwork for the cover of the new book which incorporated our suggestions. What arrived looked as close to perfection as our amateur eyes can discern. We had one little suggestion so Julie came over to work her magic in office with us and, walla, finalized the piece. (The best part was just getting some hangtime with Julie.) Next step: professional photograph.
New website progress: Met with Christian and Daniel for an update on the web development project, and was presented with impressive and comprehensive Project Proposal document, solidifying our path and offering some real momentum to this prolonged yet all-important project. And with something so solid in hand, the excitement is mounting. We are truly blessed with some real talent for this project.
Prison Ministry: Caught up on the Prison Ministry, sending out some catalog letters and forwarding correspondence on to volunteers Sam and A. Whitecrow.
Translations out the wazoo: The steady stream of translation work continues unabated. Not only did we work with Jochen to create...a soon-to-be-revealed surprise, he also sent in another German transcript. Adam also sent in three Polish translations. The translation work never ceases to amaze us! The transcripts were formatted and then posted to the archive site:
Translation product pages: And with even more help from Jochen, created two new product pages for translations:
Transcript PDFs: Got back in touch with Tomas, who formats the channeling transcripts to be published in PDF format. After another summer break, he returns to offer his unwavering service.
The development of the Asheville announcement: As you may imagine, no small amount of work went into reaching the point of and then constructing the announcement about an L/L office in Asheville. Some day we will regale you with the full story, but the short of it is that the vision for the L/L office was, quite to the surprise of the parties involved, discovered by Aaron Maret and Gary during Gary and Trisha's 11-day visit to Asheville in July. Followed by meetings with Jim and Austin, then a full day of meetings with a delegation of five from Asheville of Karin, Jan, BJ, Jess, Aaron, along with Jim, Morris, Austin, Trish, and Gary, followed by a board vote, building the announcement, lots of cross-organization dialogue, and then publishing the announcement on websites and in the gatherings newsletter. All while keeping this L/L engine going. With Europe next week, this has been the most intense crunch period with barely a moment to catch the breath at times when the many other pressures of head-spinning personal catalyses in the home life (that don't make this report) are factored in.

The constant companions: Kept up with the weekly tasks and services, including packing and shipping book orders, responding to all sorts of emails from seekers, retrieving and processing PO box mail, slugging through the keeping of the books, sharing the Confederation (thank you, Trisha) via social media, petting the cats, etc. And a thank you to Jeremy W. for his constant vigil in sharing Confederation quotes via L/L's Twitter page.
Prague Law of One Seeker Gathering: Lots of work with Vojta and team including receiving and reviewing the meal plan they invested a lot of work into, finalizing the curriculum and open space formats, emailing the attendees the aforementioned items along with all remaining gathering information, planning the Thursday/Friday schedules with the Czech team, planning our own travel/lodging details, working with Pupak's ideas of a gifting table, sending money to the Czech team for purchases and other budgetary items.
Law of One Interview project: Additionally, work on the project following the Prague gathering to spend a couple days with two videographers from Munich conducting an interview, and spending productive time with three L/L translators Misha, Jochen, and Vojta. Work included: using Trisha's great research to give team two its objective, working with Vojta to book train tickets (thank you, Vojta), receiving donation from a generous friend to support two of the team in their lodging, and working with our new friends and videographers designing the interview, Nadine and Thomas.
Itineraries and Europe To Do: As if the above two bullet points were not enough, built our detailed itineraries for the trip with all travel/lodging/contact info and created packets for everyone and saw to many points of planning and preparing and supporting Jim.
Rome: Coordinated with Gianluca, the Italian translator, about meeting Italian seekers in Rome and spending time with him.
One Center: Received the semi-annual report of Chinese-language book sales from the Taiwanese One Center.
All Channelings All the Time: Relayed Jim's notice to the local meditation group that he has decided to eliminate all future silent meditations in favor of Q'uo channelings. That means that there will be four Q'uo channelings per month to publish to the archive website!
Light/Lines Newsletter: Built, formatted, and sent the Light/Lines Newsletter for the fall season. Jim chose the Jan 19, 2019 session for this issue: https://www.llresearch.org/newsletters/indexes/2019.aspx.
Russian translations: Received communication from a Russian seeker about his interest in hiring existing Russian translators to get the entire transcript library translated! First we've run into this sort of prospect.
Organizational discussion: continued intensive look into structure-of-organization questions per the proposal of a dear friend. In the process of formulating a ten-page reply, gained great insight into our operation.
Carla still with us: transferred a 1991 letter tape of Carla's to mp3 and got that, along with the past two Q'uo channelings, over to Aaron T. for transcript. Go Aaron!
Exploratory Film Process: Dove into an email with Roger R. about the docuseries project, discussing a possible visit, schedule, items that could be used as source or reference material, and the 30 hours of footage from the Tilting at Windmills interviews.
Polish translator: Dialogued with the Polish translator, Adam R., learning of his project to launch a local support group for seekers of his language.
Met with Morris: If you don't know him, Morris is literally L/L's oldest friend. Not old in age but in his years with the organization. He knew Carla and Don as a youngster, and if fate would have made a different turn, he would have been us before there was an us. He has been living with Jim for the past month as he is in town for businss, and it has been so wonderful having him around, kind of like a grown-up Luke Skywalker. We met with Morris on a complex contractual question about publication of one of L/L's titles.
And that concludes the report for a while! (Would you believe that Google translate gave a French word for "blogworthy.") In several days we will enter Earth's atmosphere and by some magic still relatively new in human evolution, step out of the sky and step foot onto a different continent, with uncomfortable seats along the way. We will meet with eight Law of One translators of five languages (Czech, French, Hungarian, Italian, and German), along with meeting five of those eight for the first time in person (Jochen, Bara, Radim, Laszlo, and Gianluca), along with dozens of new faces, conduct our first international gathering in collaboration with the Czech translation team (and the most international with people multiple countries), undertake a two-day interview in the Alps, spend time with the Italian translator in Rome and meet seekers of the same country, and help to empower the Czech team and translators to network with one another and potentially conduct their own gatherings in the future.
We've worked very hard for this. We look forward to being back with you, but before then, we look forward to EUROPE!!!

0 Comments

Add a comment

Edit article

Delete article
S
M
T
W
T
F
S

1

2

3

4

5

6

7

8

9

10

11

12

13

14

15

16

17

18

19

20

21

22

23

24

25

26

27

28

29

30

31

| | | |
| --- | --- | --- |
| =Blog Entry | | =Today |